PARROT IN THE CAGE
About Image and Sound in Films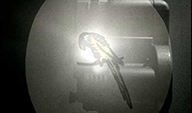 This documentary shows the use of image and sound and the combination of both in films. Sound includes noises, spoken language and music.
During the filming, an image and a sound are normally taken independently from each other at the same moment. Later they are mixed together. Sound gives us a much larger impression of the ambience than a small picture-frame does. That is why the sound normally gets manipulated during the audio postproduction process. Sound has to fit to the small image.
The image is the parrot. And the sound puts this parrot into its cage.
ITALY, 30', DV Cam, colour
Production: Brintrup Filmproduktion
| | |
| --- | --- |
| CAST | without actors |
| MUSIC | music from films by Georg Brintrup |
| CAMERA / SOUND | Jorge Alvis, Georg Brintrup |
| WRITTEN / EDITED / DIRECTED | Georg Brintrup |
| PRODUCTION | Eigenproduktion |