STRADA PIA
A Street in Rome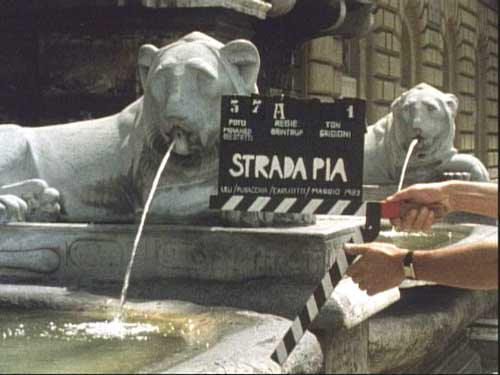 Docudrama about a street in Rome. The film is based on the idea that architecture starts declining with the invention of the printing press. It covers 400 years of architecture, of literature and of music. The film presents the most important Italian composers and writers of the last 400 years. The first film shot in Italy with 16 mm stereo sound.
WATCH THE FILM IN STREAMING ON VIMEO
ITALY, 90', 16mm, colour
Production: WDR Westdeutscher Rundfunk, Cologne / Brintrup-Filmproduktion, Rome
| | |
| --- | --- |
| CAST | Laura Betti (Filmstar), Renato Scarpa (Giambattista Marino), Olimpia Carlisi (Didone), Remo Girone (Pier Paolo Pasolini), Michele Mancini (Giacomo Leopardi), Bruno Mantura (Giuseppe Mazzini), Stefano Oppedisano (Vittorio Alfieri), Stefano Rulli (Giosuè Carducci), Antonio Piovanelli (Enrico IV), Luigi Antonuccio (Silvestro), Mario Scaletta (Liborio), Cesare Biarese (Torquato Tasso), Flavio Albanese (Gabriele D'Annunzio), Enzo Aronica (Enea), Carla Scortichini (confidente di Didone), Nestor Saied, Iannis Minuto, Mauro Russo, Enrico Gaspari, Massimo Franceschi (regista) |
| ITALIAN SPEAKER | Luigi Faloppa |
| MUSIC | György Ligeti (monument), Carlo Gesualdo (O vos omnes), Michel Haydn (Trompetenkonzert), Claudio Monteverdi (combattimento di Tancredi e Clorinda), Domenico Scarlatti (sonata L. 128), Muzio Clementi (sonata op. 50 nr. 3), Giuseppe Verdi (La Traviata, Falstaff), Trio Vocale Lescano (Segui il ritmo), Gian-Francesco Malipiero (sesto concerto) |
| DANCE | Pupi e Fresedde |
| CAMERA | Ali Reza Movahed, Emilio Bestetti |
| STEADYCAM | Nicola Pecorini |
| SOUND | Jeti Grigioni |
| AUDIO MIX | Fausto Ancillai |
| SCENERY | Gino Ietto |
| LIGHT | Piero Ras |
| SCRIPT | Carlo Carlotto |
| ASSISTENTS | Andrea Canetta, Enrico Gaspari |
| COSTUMES | Silvana Fusacchia, Piero Tosi |
| LOCATION MANAGER | Ubaldo Leli |
| EDITOR | Carlo Carlotto |
| WRITTEN / DIRECTED | Georg Brintrup |
| TV PRODUCER | Christhardt Burgmann |
| PRODUCTION | Brintrup-Filmproduktion, WDR |
| FIRST BROADCAST | WDR 3 on August 14th 1983 |
| REPLAY | WDR 3 on August 8th.1988 |
gallery with stills from the film
The Moses-fountain




A scene with Torquato Tasso




Cesare Biarese in the role of Torquato Tasso




Renato Scarpa in the role of Giambattista Marino




Preparing the scene of Metastasio's "Didone abbandonata"




On the set: Grigioni, Carlotto, Franceschi, Bestetti, Fusacchia, Canetta, Fleetwood, Aronica, Carlisi




Michele Mancini in the role of Giacomo Leopardi




Stefano Oppedisano in the role of Vittorio Alfieri




Stefano Oppedisano in the role of Vittorio Alfieri




Olimpia Carlisi in the role of Didone




Stefano Rulli in the role of Giosuè Carducci




Flavio Albanese in the role of Gabriele D'Annunzio




Antonio Piovanelli in the role of Pirandello's "Enrico IV"




A street singer




Laura Betti in the role of herself from Pasolini's "La Ricotta"