DRUMS AND GODS
The Magic Key to Brazilian Music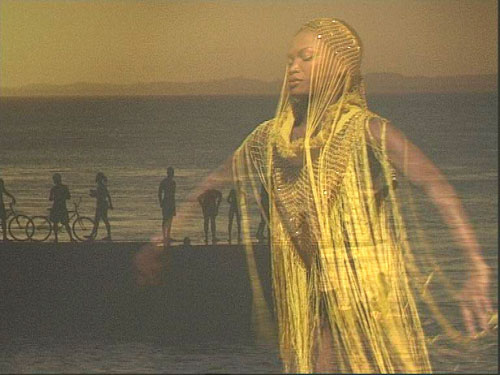 At the dawn of civilization, when man started to think and when the spirit entered the world like the beat of a drum, chaos was transformed into the cosmos. Existence took on a meaning. With the irruption of the spirit, something new entered the world. All things changed in essence because they took on a meaning, a significance. The irruption of the spirit was the most monstrous of all natural catastrophes.
When Man began to think he split in two and lost touch with himself, feeling like only half a Man.
As the spirit invaded Man his peace was gone and violence broke into his world. That's why all Men are striving to find that peace again and to recapture that primal wholeness.
The documentary "Drums and Gods" does not aim to present music as a well-packaged product through virtuosity to be consumed effortlessly. Instead, the film attempts to present music as the means that ancient Man used to find himself again, actively living and experimenting with music. Set against the colorful, lively background of the musical life of Salvador da Bahia in Brazil, the film intends to show how today Man still tries, through music, to come to an agreement with his lost wholeness, to retake possession, re-unite himself, finding peace and harmony. Re-tie, re-link from the Latin "re-ligare", the precise original meaning. This curative function demonstrates the religious origin of music.
WATCH THE FILM IN STREAMING ON VIMEO
REHEARSAL IN A SAMBA SCHOOL IN RIO DE JANEIRO
BRAZIL, 59', DV Cam, colour
Production: Brintrup/LICHTSPIEL/WDR/TVE Bahia
CAST
Vinícius Nascimento, Cristóvão da Silva, Virgínia Rodrigues, Caetano Veloso, Edlo Mendes, Ipojucan Dias, Miller Fragoso, Paolo Ferreira, Fernando Lopes u.a
MUSIC
Aldo Brizzi, Arnaldo Antunes, Carlinhos Brown
MUSIC GROUPS
Terra em Transe, Banda do Bairro da Paz, Kissukila, Banda Swingue do Pelô
DANCERS
Antônia Ribeiro da Silva, Vera Passos, Leonardo Luz
CAMERA
Joaquim Waldyr Dal Moro Filho, Jorge Alvis
SOUND
Hubrecht Nijhuis
AUDIO POST-PRODUCTION
Francesco Sardella
LOCATION MANAGER
Luciana Vasconcelos
WRITTEN BY
Georg Brintrup, Mario Di Desidero
DIRECTED / EDITED BY
Georg Brintrup
TV PRODUCER
Rudolf Heinemann
PRODUCTION
Brintrup-Film, Roma; TV BAHIA, Salvador; Lichtspiel Entertainment GmbH, Munich; WDR, Cologne
WORLD PREMIÈRE
Goethe Institut, Salvador Bahia, am 25.9.2001
FIRST BROADCAST
WDR 13.01.2002
REPLAY
WDR 3.10.02 / 24.5.06 / HR 4.8.02 / SWR 18.8.02 / 3sat 13.2.05 / TVE Bahia 29.9.2001