SUMMER MUSIC
The European Academy in Montepulciano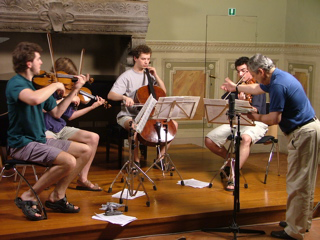 The Academy of Palazzo Ricci was inaugurated in 2001, after restoration work on the building that dates from the Renaissance was completed. It stands in the ancient village of Montepulciano, from which it takes its name. The idea to create a European music academy in the wilds of Tuscany was perhaps a risky one.
The project took off after an agreement was reached between the Town Council of Montepulciano and the Hochschule of Music in Cologne, the biggest conservatory in Europe with the help also of private sponsors as well as the Palazzo Ricci Association.
We are in 2004 and three years have passed. The film presents students and teachers who talk about their experiences. We watch them in their masterclasses of Chamber Music and horn. The teachers are Gunter Pichler and Valentin Erben, both of whom were members of the Alban Berg Quartet, and Paul Van Selm. We also sit in on the workshop called "The Magic of Sound" with Hugo Read and the courses on free interpretation by Peter Degenhardt.We also accompany the mime classes given by Isadore Fernandez.
ITALY, 45', DV Cam, colour
Production: Brintrup, L'IMMAGINE, / LICHTSPIEL ENTERTAINMENT / WDR
| | |
| --- | --- |
| CAST | Alberto Rinaldi, Isidore Fernandez und den Lehrern und Schülern der Meisterkurse für Quartett, Horn, Harfe und Improvisation u.a. |
| MUSIC | F. Mendelssohn, J. Brahms, B. Bartók, W.A. Mozart, D. Cimarosa, B.Andrès, F. Schubert, R. Glière |
| MUSICIANS | Fauré Quartett, Anima Quartett |
| SPEAKER | Reinhard Becker |
| CAMERA | Diego D'Innocenzo, Jorge Alvis |
| LIGHT | Federico Taddei |
| SOUND | Angelo Bonanni |
| AUDIO MIX | Francesco Sardella |
| LOCATION MANAGER | Aloys Silva |
| COORDINATION | Erdmuthe Brand, Stefano Farnetani |
| EDITOR | Jorge Alvis |
| WRITTEN / DIRECTED | Georg Brintrup |
| TV PRODUCER | Lothar Mattner |
| PRODUCTION | Lichtspiel Entertainment GmbH, WDR |
| FIRST BROADCAST | WDR on January 9th 2005 |
| REPLAYS | WDR 18.8.2005; HR 16.7.2006; 3sat 27.8.2006 |
gallery with stills from the film